Here at Chessbrook, we recognise that all departments have an important role to play in supporting students' literacy and numeracy development.

The English and Maths departments are working closely together in promoting cross-curricular literacy and numeracy, across all subject areas. We believe that with greater literacy and numeracy coverage, students will see the relevance of improving their skills in these two areas, which it can be applied to all areas of their lives. We are confident that by raising the profile, students will naturally develop their skills, resulting in improved outcomes and results.

Experience has shown us that reinforcement of key skills is fundamental to student progress, therefore our aim is that students cover key learning across all curriculum areas. The Maths and English coordinators have identified the skills and assessment objectives that are tested in their GCSE exams. How wonderful would it be to develop exam skills through various subjects, without the student even realising? Learning becomes even more enjoyable, dynamic and effortless and we believe this is vital in giving students the opportunity to stretch and challenge their literacy and numeracy abilities.

We appreciate that learning makes more sense for students when they make connections to real life examples through their subject. As an example, area and perimeter is a topic in Maths that can be applied naturally within Land Studies. Students can reinforce and build on their skills and knowledge when physically measuring and working out the area of a garden space for planting. Alternatively, students may calculate the amount of wood needed for fencing a boundary.

Unique and tailored starter activities are provided for each subject at Chessbrook. We customise and create new activities each half term, to ensure subject teachers cover the full range of literacy and numeracy skills. Completing an audit each half term allows us to identify areas in Maths and English, which still need to be covered. Our new starter activities will support the subject teachers in meeting the required skills (see examples of starter of activities).

Literacy

The essential life-skill of literacy is at the core of everything we do at Chessbrook as we recognise that our students need to be as literate as possible in order to fulfil their potential. To this end, we endeavour to exploit every opportunity to improve the literary of the whole Chessbrook community, whether through the discrete curriculum or the wider life of Chessbrook.

Our daily Circle Time provides a fantastic opportunity in which to share both the written and spoken word in a relaxed setting. We regularly introduce a new book with tasks that engage the students, who can then borrow the book and read it at their own pace, either at home or with their Personalised Learning Mentor. We hold a range of books including large print, audio CDS and graphic novels. We aim to show our students that reading can be an enjoyable activity as well as an essential skill. We also develop the vocabulary of our staff and students by focusing on a 'Word of the Week', which can be something weird and wonderful or a word that appears on exam papers. The challenge is to incorporate this word into their everyday speech, thus helping to commit it to memory.

Currently we are at the beginning of an exciting redevelopment of our communal and Learning Support Libraries – watch this space! We are also introducing a reading challenge, whereby the number of words read by students each week is calculated, with a prize awarded to the student who has read the highest number.
As part of the Assessment and Induction programme that all students follow when they start at Chessbrook, all students are given reading tests to ascertain their reading age, their single-word reading and their comprehension ability. This information helps us to personalise the learning programmes of all students as we are able to identify where additional support may be required in order to help students to access the curriculum more effectively. Individual literacy support is put in place when the need is identified and regular follow-up assessments track progress.

The Learning Support and English departments work very closely to ensure that student reading is supported and staff work collaboratively to achieve this. We employ a range of technological formats in which to do this, for example building electronic storyboards, as well as allocated reading and library times within lessons, to ensure all students take ownership of their reading and their choice of text.
Numeracy
Chessbrook is committed to raising the standards of numeracy of all its students.
We recognise that numeracy skills are essential to cope confidently with the demands of college, employment and adult life. Functional Skills Maths and Numeracy are integral to Maths teaching and learning at Chessbrook.
All new students complete a baseline assessment during the initial assessment phase. Once complete each student response is broken down and input to a departmental tracking spreadsheet to generate detailed diagnostic information for every student.
The spreadsheet is updated on a half-termly basis to evidence student progress against each topic that has been taught. This enables the department to provide specific areas for development, both for the individual and group attainment.
Chessbrook staff work hard to overcome negative attitudes to maths and in doing so create mathematical resilience. This positive ethos is fostered in all subjects throughout the curriculum and in less formal settings. During our collective 'Circle Time' activities, students and their mentors work collaboratively, enjoying the opportunity to engage in fun, stimulating and thought provoking activities with numeracy skills embedded. Students also enjoy the opportunity to try to solve the regular 'Maths Challenge' – a problem involving numeracy and lateral-thinking.
Students who attend 'offsite' programmes have the opportunity to improve their numeracy skills through real-life contexts, from motor vehicle maintenance to fishing.
It is important that all students develop the ability to apply numerical understanding and skills confidently to solve problems in a variety of contexts and to cope with the practical mathematical demands of every-day life.
The improvement of numeracy skills raises students' mathematical attainment, which in turn promotes high standards in other subjects.
Maths Challenges
Why not have a go at one of the Maths Challenges?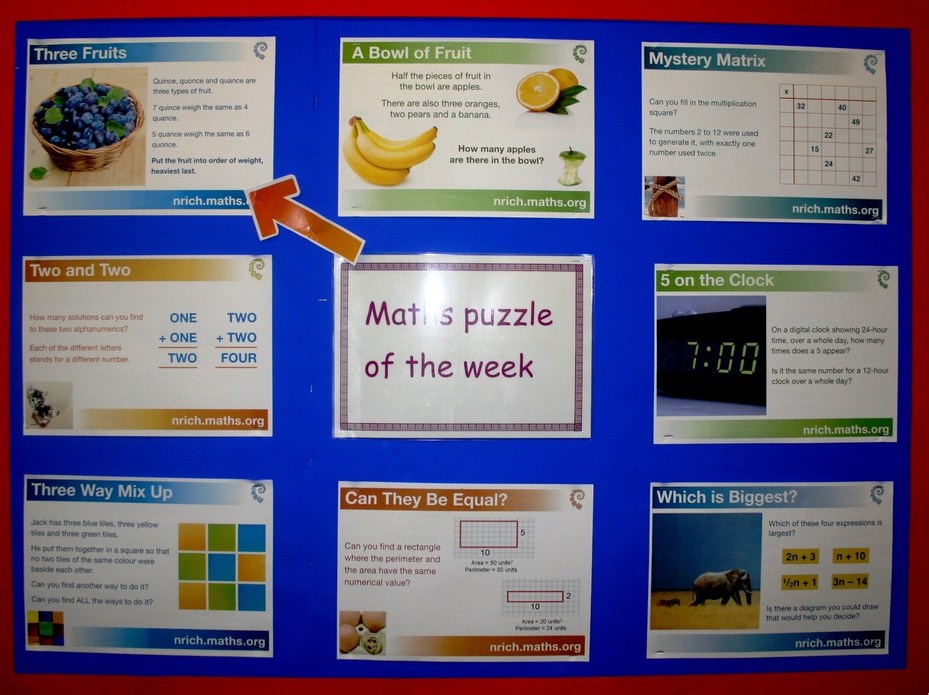 Maths Challenges
Solutions